Welcome to the Village of Afton!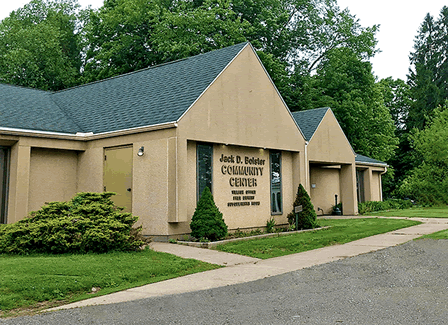 Welcome to the Village of Afton web page, from now on all the information you found on the shared page with the Town of Afton concerning the Village will be here. You will not have to check both pages. News of upcoming events, Board meetings anything Village related can be found here.
If you have information you would like to add to the page -an upcoming event or community meeting you can call the Village office and it will be added to the page. If you have questions call 639 -1022.
COVID The County has provided the Village with 400 - 3M 9501 + face masks. If you are in need of masks please stop by the Village office.
COVID In Afton, Tricounty Nurse Practitioner services, located in the Afton Town building, you can get your vaccine or Pfizer booster shot anytime you wish. Just come in or call to make an appointment. We offer after hours and weekend times as well as making a house call for vaccines. Call 607-208-4284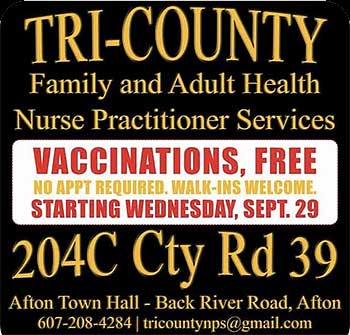 COVID
Chenango County COVID numbers:
Active Cases: 252
-includes 83 vaccinated cases (33%)
Active Quarantines: 252
Total Confirmed Cases: 7956*
Active Hospitalizations: 2
-includes 0 vaccinated individual (0%)
Total Tests Performed: 187,726*
Total Deaths: 100
updated: January 20, 2022
Source:
Isaiah Sutton; Director Chenango County Environmental Health and Code Enforcement
Chenango County Public Health 5 Court Street Norwich NY 13815 tel: 607-316-0604
Reminder from the Nursing Division: We are still working hard on case investigations and contact tracing every day. Please keep in mind that honesty during the interview process is very important to ending this pandemic. Including household members is a vital part of the process. The information is only as good as what we are given during the patient interview. Thank you.
The registration links for our first youth clinics are now live on our website.
Please visit the link below to register. https://www.co.chenango.ny.us/public-health/nursing/covid19.php
---
Info
Village Board Meeting
Current Month: January 10, 2022
Next month: February 14, 2022
The Village Board meets every 2nd Monday of each month at 7:00 pm in the Susquehanna Room
---
Planning Board Meeting
Current Month: January 03, 2022
Next month: February 07, 2022
The Planning Board meets every 1st Monday of each month at 7:00 pm in the Susquehanna Room
---
Info The Village is looking for a volunteer member to join the Village Zoning Board. The Zoning Board meets on an as needed basis, if you have an interest please call 639-1022
COVID Date: 1/19/2022
Release Date: 1/19/2022
Contact: Nursing Division

CHENANGO COUNTY HEALTH DEPARTMENT COVID-19 Update and Changes Announcement 1/19/2022
In order to align ourselves with the updated New York State Guidelines, we are changing our procedures effective 1/20/2022. We are no longer going to be processing the at-home test reports. You may still use the forms for your needs. Forms are available for Self-Management on our website AND on the NYS Department of Health website. (links located below) If your school-aged child tests positive, please report it to the school. We will still be working closely with the schools.
To seee the full PDF of this announcement, click here.
COVID On December 10, 2021, Governor Kathy Hochul announced masks will be required to be worn in all indoor public places unless businesses or venues implement a vaccine requirement. This major action to address the winter surge comes as COVID-19 cases and hospitalizations rise statewide (link) and is in alignment with the CDC's recommendations (link) for communities with substantial and high transmission. The State Health Commissioner issued a determination solidifying the requirement.

Does this mean vaccines aren't working?
No! The State Department of Health has produced nation-leading studies, published in the CDC's MMWR (link) and the New England Journal of Medicine (link), which demonstrate the COVID -19 vaccines' effectiveness - particularly in preventing severe disease. The Department continues to urge eligible New Yorkers of all ages to get fully vaccinated and boosted as soon as possible.

So why did the State implement the new requirements?
The new measure brings added layers of mitigation during the holidays when more time is spent indoors shopping, gathering, and visiting holiday-themed destinations. Since Thanksgiving, the statewide seven-day average case rate has increased by 43% and hospitalizations have increased by 29%. While the percentage of New Yorkers fully vaccinated continues to increase—gaining 2% from Thanksgiving weekend to now—the uptick is not fast enough to completely curb the spread of the virus, particularly among communities with low vaccination coverage.

When do the new requirements go into effect?
The new requirements go into effect at 12:01 a.m. on Monday December 13, 2021 through January 15, 2022, at which time the State will re-evaluate next steps.

Do the new requirements (via the December 10 Commissioner's Determination) (link) supersede the previous requirements (the August 27 Commissioner's Determination) on Indoor Masking?
Yes. This determination supersedes the August 27, 2021 determination that required face masks in certain settings such as healthcare settings, schools, correctional facilities and while on public transport or in transportation hubs. These settings are all still covered under the current masking determination.
COVID
WE APPRECIATE YOUR PATIENCE
Chenango County is currently experiencing its highest surge in COVID-19 cases since the pandemic started almost two years ago.
It is critical that everyone continue to try to curb the spread of COVID-19. We know that social distancing, wearing masks and getting vaccinated works. Please continue to take the proper precautions to protect yourselves and those most at risk and get vaccinated.
We are doing our best to keep up with the large number of new COVID-19 cases. Please be patient with this process. We may not be able to return phone calls in a prompt manner during this time or immediately perform contact tracing. If you are positive, please begin to isolate at home, wear a mask, sanitize surfaces, and practice good handwashing. Please cooperate with the contact tracer when they call you and complete the interview honestly and accurately.
We understand that people are frustrated, and some are angry. We are all in the same boat and the battle is ongoing. Please have patience. Your choices now and throughout this holiday season will make the difference between life and death for some members of our community.
Thank you
Info
The Village is working with Lamont engineering to replace the now existing water tower.
This is a project the Village has been saving and working towards for several years. The time has come when we cannot wait any longer. The Department of Health did an inspection of the tower finding many things that need to be repaired. After receiving a letter from the Department of Health stating the Village had until the end of 2020 to start repairs, The Village chose to work with Lamont Engineering. Lamont has agreed to both design and bidding services for the replacement of the existing water storage tank with a new concrete water storage tank at the same site. They have estimated the cost for design and bidding to be $90,000.00 and feel we should budget $100,000.00 - $110,000.00 for the construction phase services. They feel, based on recent projects they have completed the Village should maintain the total estimated project cost of $1,200,000.00 for a new tank.
At this time, the Village has saved $490,469.45 toward the cost of the tank. There are grants available to the Village to help with the cost. Grants are based on the income of a community, when we apply; we rely on the median income the county has set for the village. This median income puts Afton in an in between area for grants. This is the reason the Village sent out income surveys to show granters our median income may be lower than what the county says. No one in the Village will ever see your survey. Your help is greatly needed to complete the survey.
If you have any questions about the survey please call the Village office. We will do our best to answer your questions.