Welcome to the Village of Afton!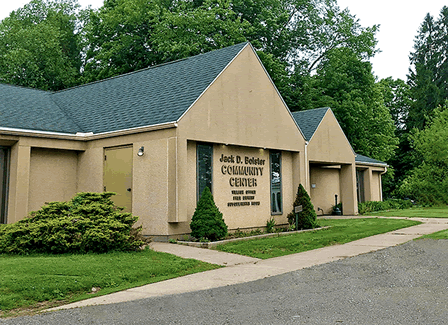 Welcome to the Village of Afton web page, from now on all the information you found on the shared page with the Town of Afton concerning the Village will be here. You will not have to check both pages. News of upcoming events, Board meetings anything Village related can be found here.
If you have information you would like to add to the page -an upcoming event or community meeting you can call the Village office and it will be added to the page. If you have questions call 639 -1022.
HOLIDAY Capital Region Toys For Tots has EXCITING NEWS!!!
2023 Capital Region Toys For Tots Distribution Train. Please Join Us For This Special Event!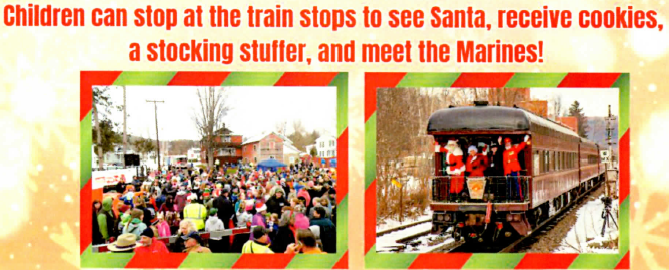 For full details, see this flier (PDF)
COVID The County has provided the Village with 400 - 3M 9501 + face masks. If you are in need of masks please stop by the Village office.
COVID In Afton, Tricounty Nurse Practitioner services, located in the Afton Town building. Call 607-208-4284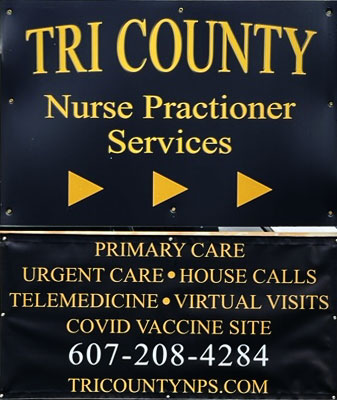 NOTICE The Village of Afton DPW Water Department will be flushing hydrants beginning Monday, October 16th thru Friday, October 20th, 2023. The water may be roily at times, but will be safe to use.
Any Questions please contact Bailey DeBetta @ 607-343-4642
FLU-INFO The Chenango County Department of Public Health is hosting a FREE Flu Clinic for age 10 and Older who have no insurance or insurance doesn't cover vaccines on Friday November 18, 2022 from 8:30 am to 4:30 pm (see PDF for details)
BOIL WATER The boil water advisory has been rescinded.
9/19/2023
Based upon repeat sampling results, the Chenango County Health Department has lifted the BOIL WATER ORDER issued for the Village of Afton, issued September 16, 2023. The Village of Afton's water supply currently meets the minimum standards for Public Water Supplies pursuant to the New York State Sanitary Code Part 5, subpart 5-1. Residents may now resume normal water activity.
For more information, residents may contact the Environmental Division of the Chenango County Health Department at (607) 337-1673.
________________________________________
David Gorman, Director
NOTICE Village of Afton Department of Public Works Water service disruption notice
June 26th – 30th between 9am and 3pm there will be a temporary disruption of water service for replacement of a fire hydrant. The village is planning on starting the work Monday, June 26th.
The affected area will be Spring Street, High Street, Hillside Drive and Blowers Hill Road. We urge residents to prepare for a lack of water service during this time period. Discolored water or air in lines is possible. If experienced run cold water until it runs clear.
If have any questions call 607-639-1903.
We apologize for any inconvenience.
This afternoon NYSEG and RG&E made rate filings with the Public Service Commission to increase rates for their electric and natural gas businesses. Below is the press release and letter associated with the rate filings as well as a fact sheet which provide further details.
(Press Release | Filing | Fact Sheet)
NYSEG AND RG&E ANNOUNCE ELECTRIC AND GAS BILL RELIEF FOR INCOME-ELIGIBLE CUSTOMERS
New York State Electric & Gas (NYSEG) and Rochester Gas and Electric (RG&E) today announced their participation in a statewide program to help low income customers facing unprecedented amounts of unpaid balances due to the COVID-19 pandemic.
More details here (PDF)
Info
Village Board Meeting
Current Month: December 11, 2023
Next month: January 08, 2024
The Village Board meets every 2nd Monday of each month at 7:00 pm in the Susquehanna Room
---
Planning Board Meeting
Current Month: December 04, 2023
Next month: January 01, 2024
The Planning Board meets every 1st Monday of each month at 7:00 pm in the Susquehanna Room
---
NOTICE State of New York Department of Public Service Announcement to the general public participation regarding alleged billing, meter readings and customer service issues affecting customers of New York State Electric and Gas Corporation ( NYSEG ) and Rochester Gas and Electric Corporation ( RG&E ).
They are hosting a virtual public forums on Tuesday , January 31 , 2023 as well as in-person forums on February 1, 7, and 8, 2023 to solicit the input and comments from our community regarding these issues. The documents attached provides the details on how to participate in the forums and how to submit your comments. Information regarding this matter, including a copy of the issues, can be found at www.dps.ny.gov . From the home page click on "search," and enter the associated matter number (23-00068) in the search by case number field.
See here for more information
---
COVID COVID – 19 Trend Update
The Chenango County Weekly Wastewater Surveillance Data Report showed an increase in SARS-CoV-2 levels over the past two weeks. The current SARS-CoV-2 detection level has changed our risk level to Substantial or HIGH. The Last sample was Aug 31, 2022. We will continue to monitor the COVID-19 trend carefully. (See this PDF for full details)
Notice Notice of Public Hearing Village of Afton
The Village of Afton will hold a public hearing on July 24th, 2023 at 6:00 PM at Village Hall located at 105 Main Street, Afton NY 13730 for the purpose of hearing public comments on the Village of Afton community development needs, and to discuss the possible submission of one or more Community Development Block Grant (CDBG) applications for the 2023 program year. The CDBG program is administered by the New York State Office of Community Renewal (OCR), and will make available to eligible local governments approximately $35 million in NYS CDBG funds for the 2023 program year for housing, economic development, public facilities, public infrastructure, and planning activities, with the principal purpose of benefitting low/moderate income persons. The Village of Afton is applying for $1 Million in CDBG funds to complete Public Facilities Improvements to a currently vacant building to be used as a space for community events and possibly for Public Infrastructure for the Village water system. The hearing will provide further information about the CDBG program and will allow for citizen participation in the development of any proposed grant applications and/or to provide technical assistance to develop alternate proposals. Comments on the CDBG program or proposed project(s) will be received at this time. The hearing is being conducted pursuant to Section 570.486, Subpart I of the CFR and in compliance with the requirements of the Housing and Community Development Act of 1974, as amended.

The Village Hall of the Village of Afton is accessible to persons with disabilities. If special accommodations are needed for persons with disabilities, those with hearing impairments, or those in need of translation from English, those individuals should contact Ann Palmatier, Village Clerk at the Village Hall at 607-639-1022, at least one week in advance of the hearing date to allow for necessary arrangements. Written comments may also be submitted to the Village Clerk until July 26th, 12:00 PM.
HEALTH Rabies Advisory, CITY OF NORWICH
Multiple cases of rabies have been identified within the local wildlife population inside Norwich City limits. Any wild animal acting strangely and in close proximity to residential areas should be considered dangerous.
To protect yourself, your family, and your pets please take the following precautions:
Vaccinate your pets for rabies. Dogs & cats should be up-to-date on rabies vaccinations. For information on rabies vaccination for your pets, please call your local veterinarian or Chenango County Environmental Health at 607-337-1673.
If your pet has interactions with any rabies suspect animal DO NOT handle your pet. If you must attend to your pet wear gloves, long sleeves and use extreme caution. You can be exposed to rabies from lingering saliva on a pet's fur. The pet should be isolated, and the saliva allowed to dry, this will kill the virus.
Keep pets on a leash when outside a fenced yard.
Enjoy wildlife from a distance. Do not attempt to feed, approach, or touch wild animals. Do NOT kill healthy appearing animals merely due to this warning. If you see a wild animal acting abnormally* in this area, report it to Chenango County Environmental Health at 607-337-1673.
Do NOT trap and relocate skunks. Doing so spreads rabies to other areas. If you have a nuisance animal contact a professional wildlife control agent.
If you or a loved-one is bitten by an animal (wild or domestic), wash the exposed site immediately with soap and water & seek medical care. Be sure to report the bite to public health officials.
*Note: Rabid animals may show no fear of people and may even seem friendly. Rabid bats typically fall to the ground where they become accessible to kids and pets.
For more information about rabies please call Chenango County Environmental Health at 607-337-1673.
Persons with questions or requiring additional information may contact the Chenango County Health Department at (607) 337-1660.
INFO NYSEG and RG&E Remind Customers That New York HEAP Enrollment Has Begun
NYSEG and RG&E continue to encourage our customers to take advantage of payment options, budget billing, energy saving tips and energy efficiency programs ahead of projected rising winter energy costs. Attached you will find press releases the companies issued encouraging eligible customers to enroll in the Home Energy Assistance Program, also known as HEAP.
Throughout the winter heating season, we will continue to remind our customers of programs and assistance available to help them manage their utility bills. We would appreciate your partnership in assisting your constituents, our customers by making information on these programs available to them.
Thank you, NYSEG and RG&E Government & Community Relations
For additional information, including storm preparation tips, storm safety information,
NYSEG.com
Facebook: @NYSEandG
Twitter: @NYSEandG
RGE.com
Facebook: @RochGandE
Twitter: RGandE
HEALTH Monkeypox Outbreak Declared Global Emergency
On July 23, 2022, The World Health Organization declared the international monkeypox outbreak a global emergency. WHO officials said the global risk of monkeypox is moderate, but that it is high in certain parts of Europe, where most of the infections have been recorded. New York State Department of Health continues to monitor the current monkeypox outbreak.
The Chenango County Department of Public Health is prepared to handle the situation should a case of monkeypox occur locally, including access to the vaccine. Anyone who has had close physical contact with someone who has symptoms of monkeypox or has traveled to a country with confirmed cases of monkeypox or where monkeypox is endemic, is at risk for infection. We would like to remind people not to report to work if they are exhibiting signs or symptoms of monkeypox and to call your health care provider.
The signs and symptoms of monkeypox can vary, but include:
Fever
Headache
Muscle aches and backache
Exhaustion
Swollen lymph nodes
Chills
Vesicular/pustular rash that appears on the face, inside the mouth, and on other body parts, like the hands, feet, chest, or genitals.
Person-to-person transmission of monkeypox occurs through:
Direct contact with the infectious rash, scabs, or body fluids
Respiratory secretions during prolonged, face-to-face contact, or during intimate physical contact, such as kissing, cuddling, or sex
Touching items (such as clothing or linens) that previously touched the infectious rash or body fluids
Pregnant people can spread the virus to their fetus through the placenta
Contact with infected animals, either by being scratched or bitten by the animal or by preparing or eating meat or using products from an infected animal.
For more information please visit: https://health.ny.gov/diseases/communicable/zoonoses/monkeypox/
Persons with questions or requiring additional information may contact the Chenango County Health Department at (607) 337-1660.
CHENANGO COUNTY HEALTH DEPARTMENT 5 Court Street, Norwich, New York 13815 - HEALTH EDUCATION DIVISION
INFO FEMA announces the new top opportunities procured for disasters. Small businesses are encouraged to see where they may make the biggest impact.
Construction
Debris Removal
Durable Medical Equipment Kits
Consumable Medical Equipment Kits
Plastic Sheeting
Tarps/ Blankets
Comfort / Hygiene Kits
Water/ Meals
Forklift Rentals
Generators
Cargo Vans
Cots
Security Guard Services
Tree Removal/ Temporary Labor
Infant/ Toddler Products
What are FEMA's missions and goals?
FEMA's mission is to help people before, during, and after disasters. This is the top focus of everybody working for or with FEMA in the field. Once there is a presidential declaration of a major disaster or emergency, FEMA coordinates and collaborates with federal, state, local, and tribal agencies to get assistance to survivors.
All a business needs to work with FEMA is a SAM registration.
What are the sites that should be monitored?
USFCR recommends using our new technology known as APP (Advanced Procurement Portal) which finds and allows you to bid on federal contracts. You can also use sam.gov once you're properly registered.
Call Now at (877) 252-2700
COVIDCOVID Vaccine Update 2/22/2022
Total doses of COVID vaccine given by our department to date have surpassed the 10,000 milestone: 10,011** Total

Totals (4228 1st doses, 3455 2nd doses, 19 3rd doses, 1779 boosters, 285 age 5-11 and 245 age 5-11 2nd doses)
Upcoming Clinics:
*Friday March 4, 2022 Pfizer 1st dose Clinic for 5 years and Older from 3 – 5 pm
*Friday March 4, 2022 Pfizer Vaccine Only Booster Clinic for 12 Years and Older from 3 – 5 pm
64.8 % of the total County population has had at least one dose of vaccine.
75.1 % of the 18 plus County population has had one dose of vaccine.
(30,791 people with one dose and 28,858 with a completed dose series)
47,536 total County population
Source: https://covid19vaccine.health.ny.gov/covid-19-vaccine-tracker
For more information or to register please visit our website page at https://www.co.chenango.ny.us/public-health/nursing/covid19.php#tab-3
We have posted home test reporting information as well as Quarantine and Isolation self-attestation forms to our website. Please visit: https://www.co.chenango.ny.us/public-health/nursing/covid19-at-home-testing.php Please follow the directions on the page.
If you would like to know more or do not have a computer or email, you may call us for help at 337-1660. Please call your medical provider if you have health questions. You may also call us if you are homeless or homebound. We can help.
If you have questions about a clinic or need more information you may email us at COVID19@co.chenango.ny.us or visit our Facebook page at https://www.facebook.com/ChenangoLHD.
COVID Reminder Regarding POSITIVE COVID-19 Reporting:
Date: 5/10/22
Currently, The Chenango County Health Department is no longer formally registering at-home test results. As of April 29th, 2022, we are no longer contacting individuals who test positive through the laboratory. There is no need to report positive test results to our office. The health department continues to monitor community spread and will investigate COVID-19 outbreaks as needed. We ask anyone who has tested positive to do the following in accordance with posted guidelines:

Begin self-isolation for at least 5 days and until recovered. Wear a mask for the next 5 days when around others.
Notify close contacts (Unmasked people who were within 6 ft for an extended period). They should begin monitoring symptoms and quarantine as recommended.
Utilize self-directed Isolation and Quarantine documents for work and school. The State Health Department has documents online that you may utilize, or we have our own local version of the same documents for your use if you prefer. Paper copies of our isolation and quarantine documents are located at the County Office Building lobby (DMV Side) at 5 Court Street in Norwich NY.
If you are a Healthcare Provider, please direct your patients to our website. Individuals that test positive for COVID-19 do not need to contact our office.
Updated guidance, Isolation and Quarantine information, and other specific details can be found on the State website below.
Additional information can be found at:
https://coronavirus.health.ny.gov/new-york-state-contact-tracing
https://www.co.chenango.ny.us/public-health/nursing/covid19-at-home-testing.php
You may email covid19@co.chenango.ny.us if you have further questions.
Thank you
Persons with questions or requiring additional information may contact the Chenango County Health Department at (607) 337-1660.